sweety warm and wet~
September 14th, 2008 ~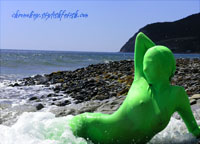 This Article was posted in "
human
".
4 Responses to 'sweety warm and wet'



You look almost like a mermaid in that picture.




Изумительно! Жаль что нет еще фотографии, где ты уже вся мокрая :)
Кстати, а каковы твои ощущения от подобного купания?




I didn't realize that you posted a new photo, Chromakey. I like the way the water causes the suit to cling to your body. Especially interesting to me is how I can see the features in your face – it almost looks like your eyes are closed, which is quite revealing. The setting is breathtaking, can you let us know here the photo was taken?




VanMan and felt as a mermaid too)

CTPAHHuK fantastic feelings!

pixelscan my eyes are closed) well, I am happy to please you
this photo was taken somewhere at the Black Sea coast, somewhere between Sochi and Anapa with Gelendzhik, well-known Russian resorts
Leave a Reply
You must be logged in to post a comment.
---