~welcometoSpring!~
March 1st, 2007 ~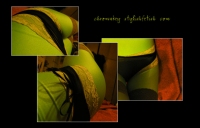 This Article was posted in "
human
".
5 Responses to '~welcometoSpring!'



Very interesting… is that pantyhose /and/ thigh-hi's at the same time? Looking forward to every post now…




like teens on myspace, showing their new underwear :-)

but much more sensual! i'm a fan!




zentaioid, yes!! you've got the idea! I'm happy)




А мы могли бы с тобой начать переписку? Хотелось бы задать вопросы, узнать больше о тебе.
Очень надеюсь на положительный ответ :) Адрес должен быть для тебя мой виден, но на всякий случай oa3uc@yandex.ru




Шикарный наряд!!!Но почему всегда зеленый?Ты теперь у мну на рабочем столе!!!Красота!
Leave a Reply
You must be logged in to post a comment.
---